So dinner tonight was not really anything fancy, just some grilled cheese on wheat bread. I do more easy dinners then hard ones on the nights my husband works because its just me and the kids. They eat the easy stuff much better then the elaborate meals and less mess to clean up. Oh did I say that. So to spice things up a bit for them I decided to throw together these
Apple Dumplings
I got from Southern Loving Food Blog. I just found her blog and I am loving it already. They smelled so yummy when they were baking. I was a little worried about how brown they were but I did load the cinnamon on top. The kids loved them and really they took very little prep time. I can even imagine having them right from the oven with vanilla ice cream on top. I have to worn you how sticky the pan is. I have mine still soaking and It has been hours. I just bought this pan so I hope it comes clean. I dont know about anyone else, but I like a brand new baking sheet when I am ready to make Christmas cookies. Just makes me feel so much better. I know I still have not posted any new projects that are finished, but I just have not had time. I had 3 parent teacher conferences Monday and Today was filled with yearly physical exams for half the kids and flu shots along with some standing in line at he post office. I promise soon. Happy Thursday.
PS I read my post because I do that sometimes when I wonder if I am being interesting or just plain boring and I found so many typos. How does that happen when you type a word wrong it gets underlined by a
red
line right? Am I that tired when I am blogging? Ok back to my coffee and crafting.
>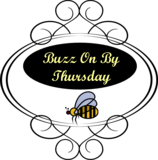 Pin It