Today was the first day of school for 6 of the 7 kids. My step daughters recently over the summer moved to another city about 35 minutes away and so this year they will not be joining the others at the same school. They are excited to be in a new school but I am sad because they are separated. Another sad thing is that my husband and I used to share the drop off and pick up on his days off, but now we will have to do it separate because of the distance he has to travel to get the girls to school. My 3 older kids that started today were so excited that you would not even noticed that I was there. I always walk them to class and do a picture at their desk. HAHA notice my oldest son is outside. We got to the first class and it was my son Mr. Imagination (I still have to do intro's on the rest of the kids, just been hectic) and he walked in and sat down and I got my first picture. Was happy for that, turned around and my oldest Mr. Bookworm was gone. I asked my daughter where he went and off he was. I had to catch up to him and I am lucky I got the one picture I did. He is in 6th grade this year and just overly excited about being in the "big kids" building. So I didnt even see his classroom, he didnt care about mom he wanted to hang out with friends. Sad, but I didnt want to embarrass him. So off to my daughters class last, she is the youngest of my school age kids and was a big nervous. So I did get a picture of her in her desk, she is always happy to do anything I ask. She is my Princess Sweetie Pie. She has such a big heart and just loves brother's and sister's and if you look at her wrong she cries. Sort of like me when I was a kid.
So back to school went very smoothly, back to the routine, back to the school lunches, and hair pretty's and fighting with my boys about what they think they look good in when they clearly dont. I have to be on a strict schedule and routine during the school year with work, sports for the kids, my toddler is doing dance this year. Its going to be a busy one, but I look forward to the Fall and the Holidays. I hope everyone else had a good back to school day. So do you have a schedule or routine that you have to stick to? I love your comments.
So my Tuesday Three are all here... 1. I lost 3 pounds, 2. I made a great cake for the kids, and 3. It was the first day of school. Next week maybe they wont be so hectic lol...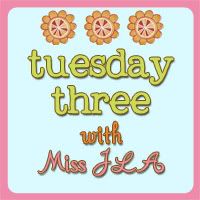 Pin It